Contents
1. Introduction
2. Graphical User Interface
3. User's Guide
4. Technical Support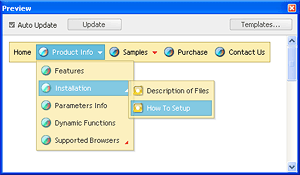 Hotkey: F8

If "Auto Update" is checked, the preview will be updated automatically when any of parameters is changed.
The "Update" button instantly updates the preview (hotkey: F5).
The "Templates..." button opens templates window.
























---
Java Menu Program - Item Parameters Window | Dhtml Menu Builders - Preview Window
Dropdown Menu Generator - Templates Window | Java Menu Generator - Individual Styles Window

Copyright (c) 2007, by Deluxe-Menu.com | Contact Us
All rights reserved.