Contents
1. Introduction
2. Graphical User Interface
3. User's Guide
4. Technical Support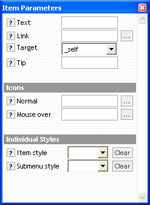 Hotkey: F7

The dialog allows to set the following parameters for selected items. Item parameters differ in different menu types.

Deluxe Menu
Text - item text.
If this value is '-' (minus), the item is separator.
You can also write any HTML code for this value. For example, a table or an image.
Link - URL to open on an item click event.
Besides, you can write a Javascript code instead of URL: javascript:your_code
Target - individual item target.
You can set one of standard values or set your own target (for example, a frame name).
If the target is '_' item is disabled.
Tip - hint message.
Normal icon - item icon in a normal item state.
Mouse over icon - item icon in a mouseover item state.
Item style - individual item style.
Submenu style - individual submenu style.
.js filename - Javascript filename on a server that contains menuItems variable with submenu data.
See more info about AJAX-like technology in Deluxe Menu.

Deluxe Tree
Text - item text.
If this value is '-' (minus), the item is separator.
You can also write any HTML code for this value. For example, a table or an image.
Link - URL to open on an item click event.
Besides, you can write a Javascript code instead of URL: javascript:your_code
Target - individual item target.
You can set one of standard values or set your own target (for example, a frame name).
If the target is '_' item is disabled.
Tip - hint message.
Normal icon (expanded) - item icon in a normal item state when item is expanded.
Normal icon (collapsed) - item icon in a normal item state when item is collapsed.
Mouse over icon - item icon in a mouseover item state. Shows only if item is collapsed.
Item style - individual item style.
Submenu style - individual submenu style.
This style is used for submenus in the XP-Style mode only and has an effect when the item is a top-level one.

Deluxe Tabs
Text - item text.
If this value is '-' (minus), the item is separator.
You can also write any HTML code for this value. For example, a table or an image.
Object ID property - ID attribute of object to show or JavaScript code. Link to open in Tab Mode.
Besides, you can write a Javascript code instead of URL: javascript:your_code
Normal icon - item icon in a normal item state.
Mouse over icon - item icon in a mouseover item state.
Selected icon - item icon in a selected item state.
Tip - hint message.
Item style - individual item style.


You can change parameters for several menu items at once: select items that you want in the items tree (use Ctrl/Shift keys) and modify necessary parameters. Changes will be applied for all selected items.






---
Java Menu Program - Item Parameters Window | Dhtml Menu Builders - Preview Window
Dropdown Menu Generator - Templates Window | Java Menu Generator - Individual Styles Window

Copyright (c) 2007, by Deluxe-Menu.com | Contact Us
All rights reserved.