Contents
1. Introduction
2. Graphical User Interface
3. Technical Support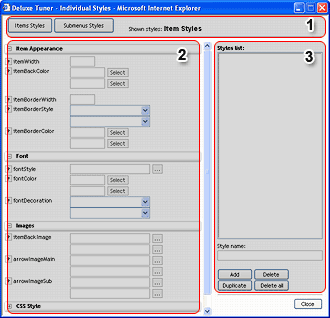 This window allows you to create individual styles for items and submenus.

1. These tabs switch between the item styles page and the submenu styles page.

2. Parameters of selected style.

3. Styles list. This list displays names of created styles.
You can rename a selected style using "Style name" field.
To make a style duplicate click "Duplicate Style" button.

After a style was created and its parameters were tuned, you may assign this style to items in the item parameters region.


















---
Java Menu Bars - Loading Dialog | Java Script Menu Bar - Saving Dialog
Dhtml Menu Bar - Individual Styles Dialog

Copyright (c) 2007, by Deluxe-Menu.com | Contact Us
All rights reserved.