Contents
1. Introduction
2. Graphical User Interface
3. Technical Support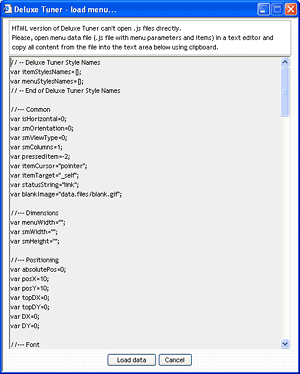 The dialog allows you to load existent menu data into Deluxe Tuner.

HTML version of Deluxe Tuner can't open .js files directly.
You should open menu data file (.js file with menu parameters and items) in a text editor and copy all content from the file into the text area of the dialog using clipboard.
Then click "Load data" button. Menu data will be loaded into Java Menu Bars.
























---
Java Menu Bars - Loading Dialog | Java Script Menu Bar - Saving Dialog
Dhtml Menu Bar - Individual Styles Dialog

Copyright (c) 2007, by Deluxe-Menu.com | Contact Us
All rights reserved.