Contents
1. Introduction
2. Graphical User Interface
3. Technical Support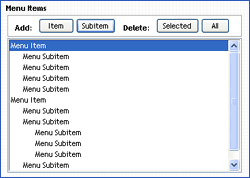 These controls allow you to create and delete menu items.
The panel at the top of the region contains the following buttons:

Add Item - add a new item;

Add Subitem - add a new subitem to a selected item;

Delete Selected - delete selected items;

Delete All - delete all the items of a menu;

You can also select several items in the items list.






















---
Dhtml Menu Creater - Menu parameters | Dhtml Menu Generator - Menu items |
Dhtml Drop Down Menu Generator - Item parameters | Drop Menu Generator - Real-time preview

Copyright (c) 2007, by Deluxe-Menu.com | Contact Us
All rights reserved.