Contents
1. Introduction
2. Graphical User Interface
3. Technical Support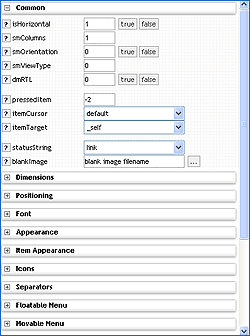 This region allows you to tune menu parameters. To see info about the perameter click on

button on the left of it.
Parameters are modified by entering values into a value field. You should modify parameters carefully if you change them. For example, an integer parameter can only accept numerical values and can't accept text and special characters.
You can copy, cut and paste parameters' values. In other words, you can do the same actions as with standard HTML forms.
























---
Dhtml Menu Creater - Menu parameters | Dhtml Menu Generator - Menu items |
Dhtml Drop Down Menu Generator - Item parameters | Drop Menu Generator - Real-time preview

Copyright (c) 2007, by Deluxe-Menu.com | Contact Us
All rights reserved.